Tonnellerie Gillet introduced a new toasting profile in 2011 known as "Blonde" – a longer toast over a less intense brazier, to give a rich subtle flavour and to improve the versatility of the barrel. Gillet is now also producing 500L barrels and a full range of barrels called 'Elegance' which use staves that are seasoned for 36 months.
The Gillet cooperage is based in St. Roman, Burgundy. Apart from their traditional following in Burgundy with Pinot Noir and Chardonnay, Gillet is proving itself to be a quality French oak supplier throughout the world's winegrowing regions with an assortment of varieties. The Gillet family pride themselves on Quality and Tradition with a very real respect for a winemaker's focus on consistency.
Visit the Gillet Website.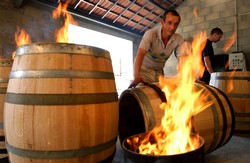 With a production of approximately 10,000 barrels per year, Gillet remains a very hands on Cooperage that retains control over oak supply and all steps of production. Used in the past only for Chardonnay and Pinot Noir, Gillet barrels are also producing some fantastic results with Shiraz, Viognier, Sauvignon Blanc and Semillon in the "New World".
Characteristics: Subtle spicy/savoury flavour typically with red wines and a nutty/mineral character with whites. Gillet can tend to have quite a savoury flavour in the first 3-6 months which integrates into the wine with further time. The new "blonde" toast is a toasting profile which leaves the barrel on the brazier for a longer period of time with less heat, giving more subtle flavours.
Download the Gillet 2021 Order Form